Waikato Share Farmers Win Coveted Award
After Winning The 2020 Share Farmer Of The Year Title, A Waikato Couple Is Now Focusing On Achieving Their Goal Of Farm Ownership.
By Gerard Piddock
Article from the November issue of Dairy Farmer
Aidan and Sarah Stevenson like to be challenged. It pushes them out of their comfort zone and allows them to turn challenges into opportunities. It's helped them secure employment and win the 2020 Share Farmer of the Year title. The couple 50:50 sharemilk at Ngarua, north of Matamata on a 100 effective hectare farm owned by Sarah's mother Sue Williams. They also lease another farm and own a residential investment property at Mt Maunganui. They hope this income diversification will reduce the time it takes to reach their ultimate goal of farm ownership. Aidan always wanted a career in dairy farming, despite being raised in a non- farming household in Morrinsville. He did not go straight into the industry after leaving school, instead opting for a trade where he qualified and worked as a builder for five and a half years. From there he switched to dairy farming in 2011, starting as a farm assistant on a 470-cow farm in nearby Wardville. The couple had met as teenagers and married in 2012. That same year, a position opened up on Sarah's parent's farm at Ngarua to contract milk. The meteoritic rise from dairy assistant to contract milker was due in part to circumstance. Sue was looking for somebody to take over the day-to-day running of the farm and Aidan and Sarah were unsure when another opportunity similar to this one would come their way. Aidan believes his building experience held him in good stead because it taught him the work ethics required to learn quickly and succeed in dairy farming. He also had great bosses to watch and learn from and soaked up that information over that first season while working as an assistant. "I came here with the mentality of sink or swim basically," Aidan says. "Everyone said to my mum, 'don't do it, it will be a disaster'," Sarah says. They employed a close friend who had grown up on a dairy farm and relied on the advice of farm consultant Wayne Berry. "He's still involved with the business to this day and I sort of look at him as a farming dad. He's always been available on the phone either for a quick chat or if I needed help on something, he was there," Aidan says. The couple have remained on the farm since then, and are now into their ninth season. Aidan also purchased a house in Hamilton during his time as a builder. That first season on the farm coincided with a drought causing the cows to be dried off by March. He took advantage of that early finish to the season as an opportunity to renovate that house and sell it.
The money from the sale was used to buy the herd, enabling them to be 50:50 sharemilking by their second season, which they have kept doing since 2013. After nine seasons, they felt like they needed another challenge, having secured a lease on a 72ha 230-cow farm located nearby. It is run by a full-time manager with Aiden helping out with milking in the morning. The Stevensons own the farm's cows and Fonterra shares, get 100% of the milk cheque and pay the farm owner the cost of the lease. It averages 78,000kg MS, running as a low input system 1-2. "We run the farm as if we own it, except we are not paying a mortgage to the bank, we're paying a lease to the owner," Sarah says. "Our end goal is farm ownership and we realise that milking 320 cows isn't going to get us there quick enough in our age." They also own a residential property in Mt Maunganui to diversify their income. "Ideally, the goal would be to continue sharemilking and buy a farm of a similar size," he says. Aidan says the biggest challenge in taking on the second farm was the potential of spreading themselves too thinly across the two properties. "But it was what we were after. We wanted to push ourselves outside our comfort zone," he says. "We're in our ninth season now and we know this property pretty well," Sarah adds. This is the first season that Sarah has taken on a more active role in the farm business after being the self-described "backstop" for Aidan over the past nine years. This was in part because of the decision to take on the second farm and the potential for Aidan's time to be stretched. Up until that point, Sarah had been on maternity leave after having her third child Zac 18 months ago. Her parents moved from Waihi to the Ngarua farm when she was 10. After school, she went to Victoria University where she majored in accounting and commercial law. Sarah then worked at KPMG in Hamilton until she had her first child Emily in 2014. Since then, she has continued to work part-time. They also have a full-time farm assistant and Sarah has been rearing calves and milking cows in the morning since calving. Sarah's father passed away when she was 12 and her mother has retained ownership of the farm, which remains today.
""We run the farm as if we own it, except we are not paying a mortgage to the bank, we're paying a lease to the owner."
She describes her mother's involvement as being very hands-off, while at the same time running major decisions by her. Berry also acts as Sue's eyes and ears on the farm, she says."Mum loves the farm, but she's happy for us to have guardianship and look after it on behalf of the family and we really take on that ownership role on her behalf. "We run this farm if it was our own farm," Aidan says. While it is run as a System 3, this can vary depending on how the season is tracking and they utilise their feed pad according to the seasonal conditions. Aidan monitors the pastures weekly by plate metering. The cows eat grass if there is enough in the paddock. If there is a shortage, the diet is supplemented with maize silage and palm kernel, which are bought in. They also grow 5.5ha of turnips as a summer feed crop. They retain the calves on the farm until near the end of the season on May 1, when the young cattle leave for the grazier. While it does create some challenges around feed after Christmas, it gives Aidan peace of mind that he knows for sure that the calves are being fed properly. "We like to preferentially treat them because our average (cow) weight here is 500kg and to grow an animal to 500kg in two years, you really need to be poking that feed into them for their whole life," he says. "They're our babies – they are our next best genetics," Sarah adds. Calving runs from July 20 to September 20, during which they feed out 3-4kg of supplements per cow per day until balance date around September 10. The herd is then fed grass until supplements are again needed when the summer heat starts to affect pasture quality. They try to milk the herd twice-a-day (TAD) for as long as they can and hold out for autumn rain, but the hot Waikato summers mean they have had to switch to once-a-day (OAD) milking for four of the eight seasons they have been at the farm usually in late February to early March. He also has set aside a paddock close to the shed with plenty of tree shade to act as a sacrifice paddock for the herd in summer. While last season's drought was the worst Aidan had ever experienced, the farm has bounced back well, thanks in part to its excellent sandy loam soils, which are capable of growing as much as 80,000kg DM/ha at the peak of the spring flush. The crop paddocks are rotated back into grass after they are eaten in February and the herd are fed maize until they are dried off. Effluent is stored in a clay-lined pond that has been drop-tested to ensure it is sealed. They have a sump at the cowshed and they pump the effluent either straight to the irrigator and out onto paddocks or store it in the pond. They empty the pond onto the new grass paddocks in autumn. They keep all the stock on the farm over winter, and utilise the feedpad to get the cows off the pasture and prevent pugging if it gets extremely wet. Through autumn and spring they use slow-release nitrogen and also apply urea during spring, applying 155kg/ha in total. This year they are trying chicken manure to reduce their chemical fertiliser usage.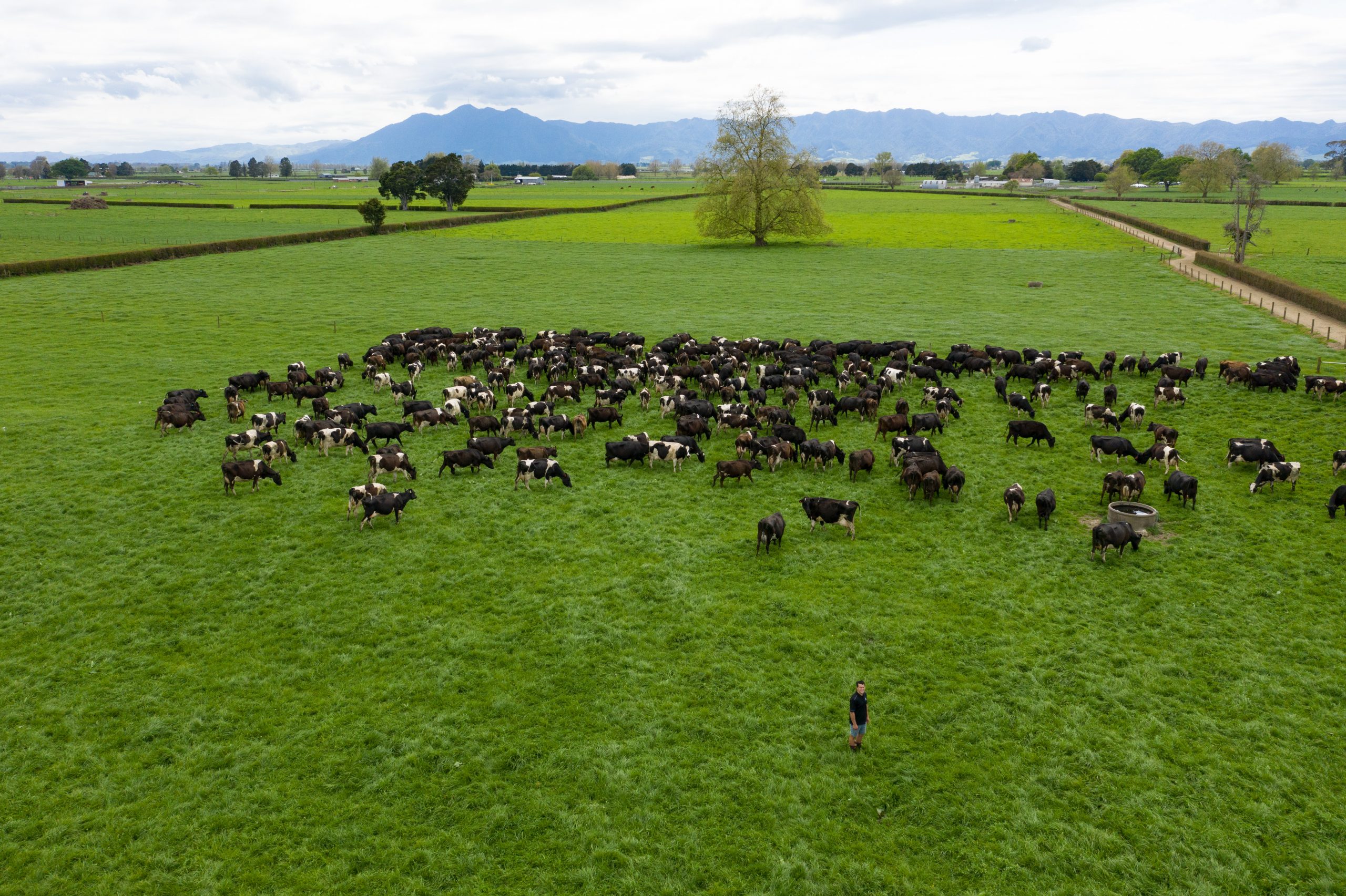 A farm environment plan has also been completed through Tatua, which will see them look to establish a 0.2ha wetland on the far end of the farm that borders the Waitoa River. It will be fenced off and planted with native trees and shrubs to act as a filter for nutrients flowing into the river from the farm's various drains. Aidan plans to fence the area off over the summer and they are in the middle of working on a planting plan and hope to start this coming autumn. Once complete, it is hoped it will lead to a reduction of their leaching rate, which currently sits at 24kg N/ha. "If we did the wetland, it would benchmark us in the top 10% and for us, that's a massive motivator to do that," Sarah says. There's a long list of improvements to the farm they have made over the past nine years as Aidan's building skills have been used to modernise the farm. They have constructed a feedpad, a supplementary feed bunker, a vat stand and a new waterline system. All of these projects Aidan has either done himself or overseen the work, which helped keep their costs to a minimum. The work has future-proofed the farm. Sarah believes the transformation of the farm helped them secure the lease because it showed to the farm owner they were able to successfully run the farm on behalf of an absentee owner. They use technology to help guide decisions around animal health and mating. They are into their third season of using the software system Cow Manager. This monitors all of the milking herd's general health and heat detection via an ear tag sensor. It monitors heat detection for mating, as well as alerting them if there are any temperature changes in the cow, which can be an early warning sign if the cow is unwell. For example, if Aidan gets an alert that one of his springer mob's temperature has dropped, he knows the cow could have milk fever and can take the appropriate preventative action. "It can act like half a staff member because it can tell you when a cow's sick before she gets sick by giving you temperature alerts," he says. "Without Cow Manager, we would need more staff," Sarah says. It also drastically cuts the mental fatigue that comes with AI, which the Stevensons do for 100% of their herd. Cow Manager tells Aidan which cows are on heat for that day, he can then draft them and inseminate them. The result is a big saving of their time as well as a reduction in their animal health costs and the costs for heat patch equipment, which they no longer need to use. It also meant they no longer required three people in the shed during milking over that mating period, freeing up labour costs. Supplements, animal health, breeding and labour are their biggest on-farm costs. While labour is fixed, they keep a lid on supplement costs by using grass first and maize and PKE only to fill any feed deficits. Sarah estimates those expenses would sit around $2.30/kg MS. They also love being a Tatua supplier, being one of a handful of sharemilkers for the small supplier. "We are very fortunate with what our company does with our product," she says. The Stevensons have invested heavily in cow breeding over the past few years, especially in embryonic transferring.
""It can act like half a staff member because it can tell you when a cow's sick before she gets sick by giving you temperature alerts."
The bottom third of their herd on BW values are mated to Hereford genetics and sold as four-day-old calves, while the rest of the herd are utilised in their breeding programme. The key traits they look for in their bull semen are udder health, capacity, confirmation and protein values. Protein is particularly important because Tatua pay their suppliers more for protein than fat. So far, they have grown two bulls LIC have purchased for its sire proven scheme. The first is a Crossbred bull and the other is a Friesian, which will get daughter proven status next year, has been marketed in LIC's premier sire group last year and is one of its A2 premier sire bulls this season. "It's been a five-year process of putting a lot of money in and we're only just starting to get those benefits back," Aidan says.
""It's been a five-year process of putting a lot of money in and we're only just starting to get those benefits back."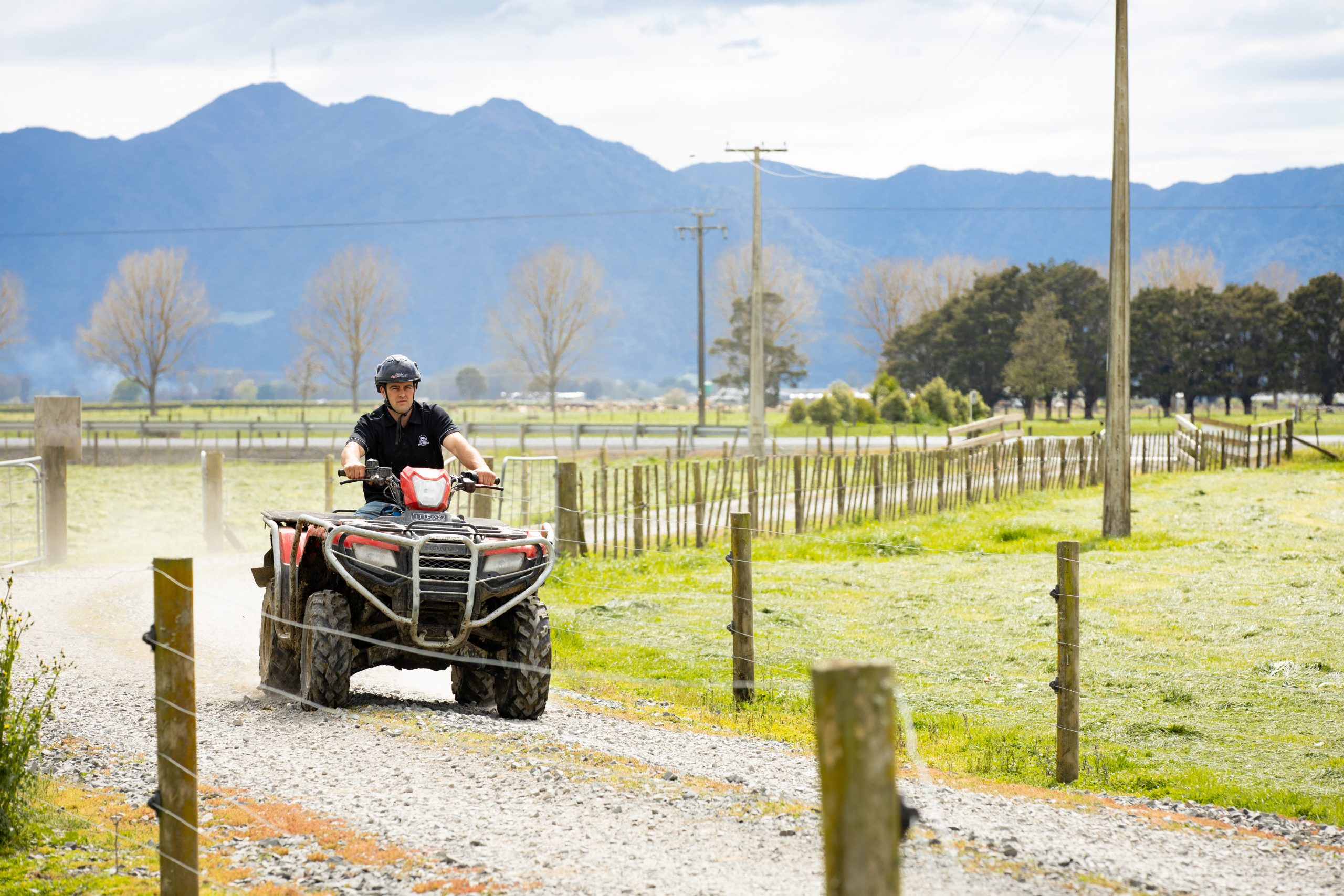 The original herd was a premier herd with many of its cows contracted to LIC. That had fallen on the wayside during the 12 years prior to Aidan and Sarah coming onto the farm when it was farmed by contract milkers. They arranged for LIC to inspect their herd soon after starting on the farm. LIC identified a couple of cows that with the right mating, it would be interested in contracting the daughters. One of those cows LIC had identified was born in the first few years when they arrived at the farm when their focus was purely on farming rather than breeding. At that stage, Aidan favoured big Friesian cows with a large production output and used a bull with those traits. "It was definitely strategic breeding with a lot of luck thrown in," Sarah says. The cow's genetics are now heavily imprinted into the herd with it providing 30 embryos last season alone when it was flushed. Another unexpected bonus was every one of the resulting calves born were heifers. This season, more embryonic transfer work saw 40 contract calves born. If the calf is a heifer, the Stevensons get to keep it, if it is a bull, a DNA sample is taken and analysed. LIC or CRV then decide whether to purchase the bull based on that analysis. If the genetics company wants the bull, Aidan and Sarah are given the option of buying the bull outright or taking royalties from the sales of its semen straws. The Stevensons decided on the latter option. "It's kind of like winning Lotto, but with better odds," Sarah says. This year, LIC are screening eight bull calves and CRV are screening six from their herd. Over the years, Aidan's preference has changed from big Friesians to an 80:20 split between Friesian and Jersey that focuses more on efficiency. They have simplified their mating this year because of the work involved in looking after the second farm. Still wanting to push themselves, they entered the Dairy Industry Awards for the first time in 2019, finishing runners up in the share farmer category. "We were getting pretty comfortable and we thought, let's see what we can do better," Aidan says. "I was looking for that mental stimulation as well," Sarah says. "And we learned heaps – about the dairy sector and each other." Finishing second in their region hurt, Aidan says. Not perturbed, they tried again this year and won the Waikato regional title and finished second behind Nick and Rose Bertram at the national awards. The Bertrams then had the title revoked after an inquiry into offensive social media posts Nick Bertram made on Twitter in 2016 and 2017 that were brought to light by animal rights group SAFE. The Trust then awarded the national title to the Stevensons. They believe their success in the Awards helped secure the lease farm after two years of trying and being turned down from similar opportunities. "We got offered five 50:50 jobs last season and the only difference was us winning it," Aidan says. The Stevensons are not resting on their laurels after the win, with their focus now on farm ownership, which they hope to achieve over the next five to 10 years. Their first priority is to reduce the debt they accumulated from purchasing the herd on the lease farm. They will also sell their investment house in Mt Maunganui once it is clear they will receive a profit. The future dairy payout will also be factored into the decision, and of course taking advantage of any challenges they can turn into opportunities.